RELAMPING LED
innovation and cost savings
The updating of technologies related to lighting is currently facing a major revolution that will last over time.
Esa Service, with its partner Zumtobel, leaders in this LED solutions, is able to offer its customers the Relamping process involving the modernization of existing facilities through the installation of the most modern LED lamps, characterized by:
– extremely low power consumption
– better performance
– durability
– reduced maintenance
Thanks to these LED technology's features , Esa and Zumtobel propose to Prospect a peculiar captivating economic form, in addition to the simple supply: from the analysis of current consumption comes the kind of technology and investment that Esa and Zumtobel will do primarily to modernize the Customer facility.
With the special formula of Project Relamping, in fact, the end customer can renew its lighting system without an initial investment but with an immediate saving.
In a first period of duration agreed the generated saving is shared between the customer and Esa and Zumtobel (in the form of annual installment). At the end of the project period NOW! the entire savings will remain at the customer, for the entire led facility service life.
Consider an example related to a parking facility: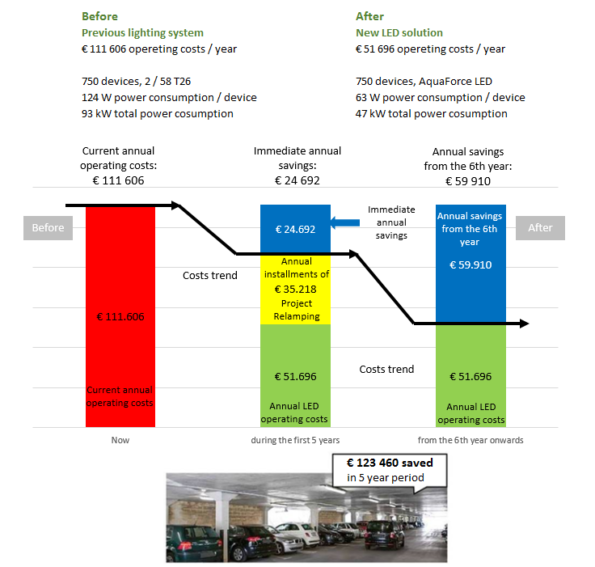 In the case where there are no systems to be updated but the system is fully to be realized, the facility is supplied with the formula of the operating lease.